The Art Nouveau Murals of the Chamberlin Inn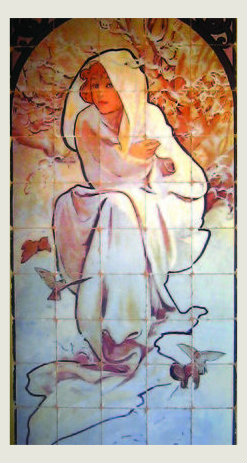 When we were remodeling the Chamberlin Inn, we had a Victorian theme planned for the architectural details, furnishings, and art.  However, a local architect friend, who was providing us with a sketch of some possible remodeling ideas, commented that the original Chamberlin was not Victorian but Art Nouveau, a new artistic style made popular during 1895 – 1920.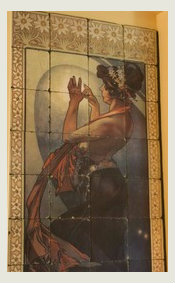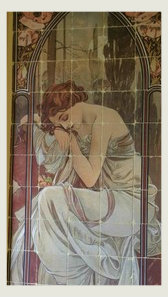 One of the pioneers of Art Nouveau was Alphonse Mucha.  We had seen Mucha's art at the Mucha Museum in Prague, Czech Republic, a few years prior to our purchasing the Chamberlin.  We discovered the tile murals of Mucha's art and knew this was a theme we wanted to embrace throughout the Inn.
To see more of Mucha's art, visit the Mucha Foundation's website. They have an extensive online gallery of his art and a detailed timeline of his life.
To view some of Mucha's art, in person, please be our guest at the Chamberlin Inn.
– Ev & Susan Diehl, Chamberlin Inn Owners