Chamberlin Spirits is the place to be for patio drinks & live music
Click on the video below to go to the Chamberlin Inn's NEW YouTube Channel and watch two videos of Scott playing at Chamberlin Spirits.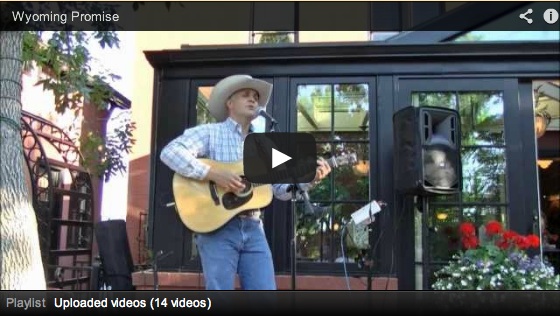 ABOUT SCOTT:  Born and raised in Cody, Wyoming, Scott was instilled with a deep love of the land and nature by his parents. "I was one of the lucky ones, let loose to roam the wilds of Wyoming."  Not many people have the opportunity to chase cutthroat trout with a fly, blue grouse with a .22, and ride horseback to the most remote section of wilderness in the lower 48 states – all before the age of 10.
Scott has spent the past two decades writing and performing western music at major festivals such as the Elko Cowboy Gathering and the prestigious Cowboy Songs and Range Ballads. With a love for the land, its work, and the music, it all started while sharing songs of the west while working on guest ranches in the high Rocky Mountains of Wyoming. Singing the classics left Scott with a desire to write and perform his own songs crafted with the sincerity of the Rocky Mountain West.
(text, courtesy of ScottBragonier.com)
- Learn more about Scott & his original songs at:http://www.scottbragonier.com
Follow us on Facebook for up-to-date information on upcoming concernts & entertainment at Chamberlin Spirits.